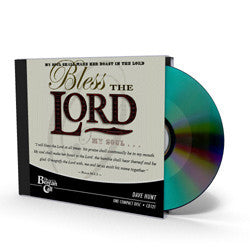 Bless the LORD
I will bless the LORD at all times: his praise [shall] continually [be] in my mouth. My soul shall make her boast in the LORD: the humble shall hear [thereof], and be glad. O magnify the LORD with me, and let us exalt his name together" (Psalm 34:1-3).
Bless the LORD, O my soul: and all that is within me, [bless] his holy name. Bless the LORD, O my soul, and forget not all his benefits: Who forgiveth all thine iniquities; who healeth all thy diseases; Who redeemeth thy life from destruction; who crowneth thee with lovingkindness and tender mercies; Who satisfieth thy mouth with good [things...] (Psalm 103:1-5).
How can I bless God? How can I magnify the Lord? How can we bless Him who is so much greater than we are or ever will be? As human beings, we are pitiful creatures, infinitesimal in God's sight. And yet, He desires to have an intimate relationship with us. Believe it or not, there is something within you that God cannot take from you, that He desires from us. Our greatest gift back to God is that of ourselves. To Him we can yield our heart and surrender our soul. Our great God and Creator, Lord and Savior, deserves so much more than we can give. Our words are inadequate, and our understanding is limited, but one day "we shall see him as he is." May the Holy Spirit give us a greater measure of understanding that we may indeed give Him glory and praise.
Recorded at Word of Life - Schroon Lake, NY
MP3 Download - 45 min